Skyrise Runner
Run and protect the Skylands!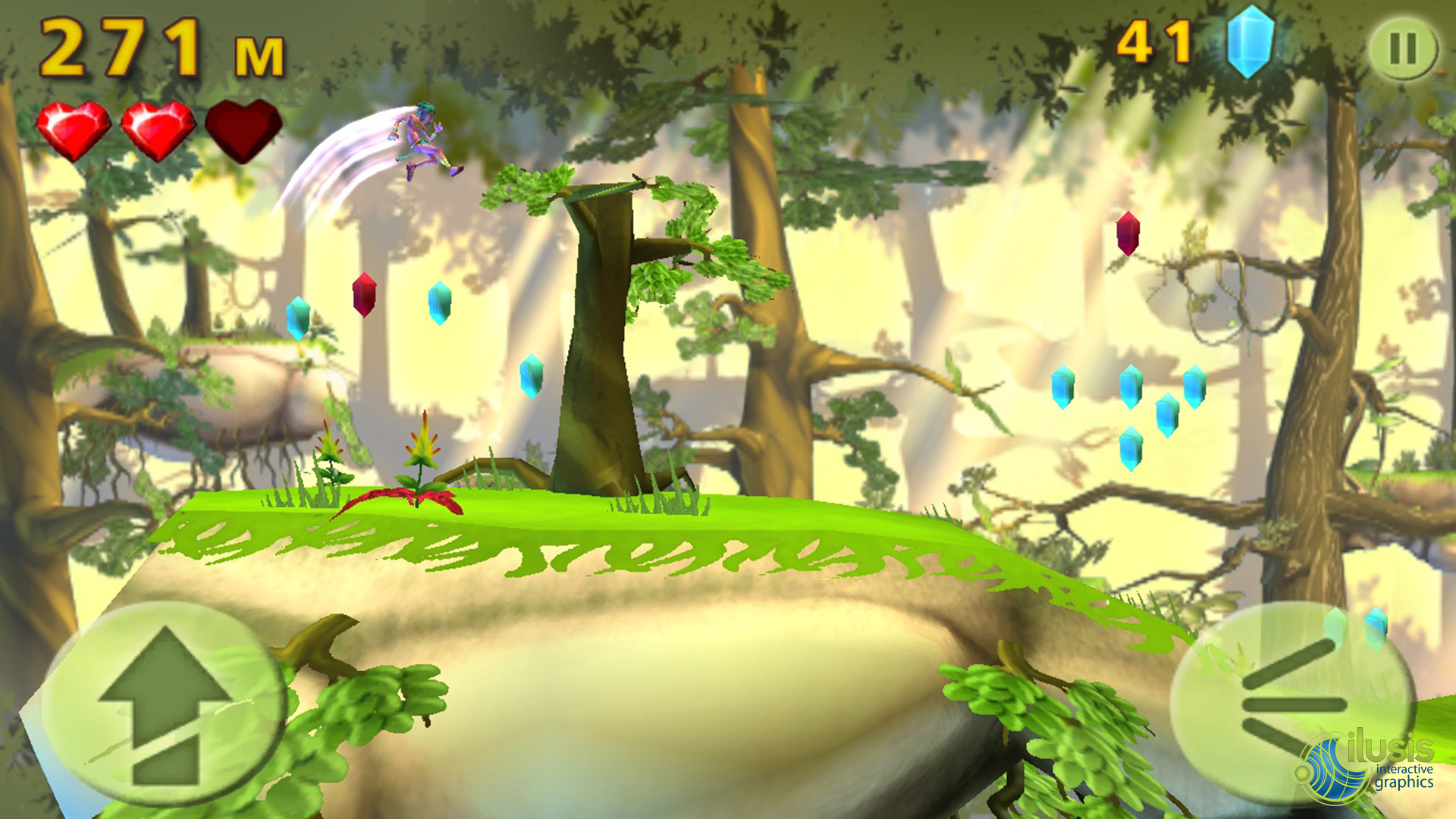 SkyRunner for iOS and Android
Floating platforms, nature, high-speed and strong enemies. SkyRunner is the newest free-to-play game from Ilusis Interactive Graphics, developed for iOS and Android. In the game you are responsible for guiding a nature spirit, Ciellu, last of the Skyrunners, ancient tribe who lives in Skyland. Your main objective is protect the forest by collecting crystals in order to rise the character's energy and prepare him to fight against the enemies who want to destroy the environment.
However, this mission is not very simple since Skyland can be very tricky and demand your habilities acquired along the journey. When the spirit collects special feathers, for example, he receives power from the forest and becomes an eagle. While in this form, the player will experiment a new way of controlling the game and feel the challenges that appear. There are a lot of patches to go forward but if you opt for the hardest one the award will be bigger such as more crystals and as a consequence more strength to the main character.
Between the enemies from SkyRise Runner you have the Wood Cutter, who can be found on the soil with the objective of taking down trees on the forest. Every time that the player chocks with him a life will be lost. Another challenge is the Flamethrower Specialist, who is hanged on a tree while you assume the eagle form and expects you to burst you in flames.
If you die, a new screen will appear along with the option of shopping online to buy extra lives and energy besides other special items which will transform your game! In case you don't want to wait to collect enough coins to buy them you can purchase coins. Their price based on the amount you opt for.
SkyRise Runner brings a lot of action and challenging missions that demand moments of full attention and motor habilities. On the other hand, there will be peaceful parts in order to calm your heart and let you enjoy the beautiful environment of the forest. Call your friend or relative and see who can guide the spirit through the longest distance possible and protect Skyland!
---
"Fast, addictive and a joy to play, Skyrise Runner is a wonderful tablet download, capable of making even the most dull of commutes enjoyable."
Dailymail.co.uk
"Skyrise Runner is an entertaining and fun game for people of all ages. Because it offers great graphics, you will enjoy hours of playing without items in the background blending together."
Toptenreviews.com
---
Screenshots
[fancygallery id="1" album="2"]